To purchase tickets follow the links:
February 26, 2022
Saturday Daytime (11:00am-5:00pm) SOLD OUT
February 27, 2022
February 28, 2022
March 1, 2022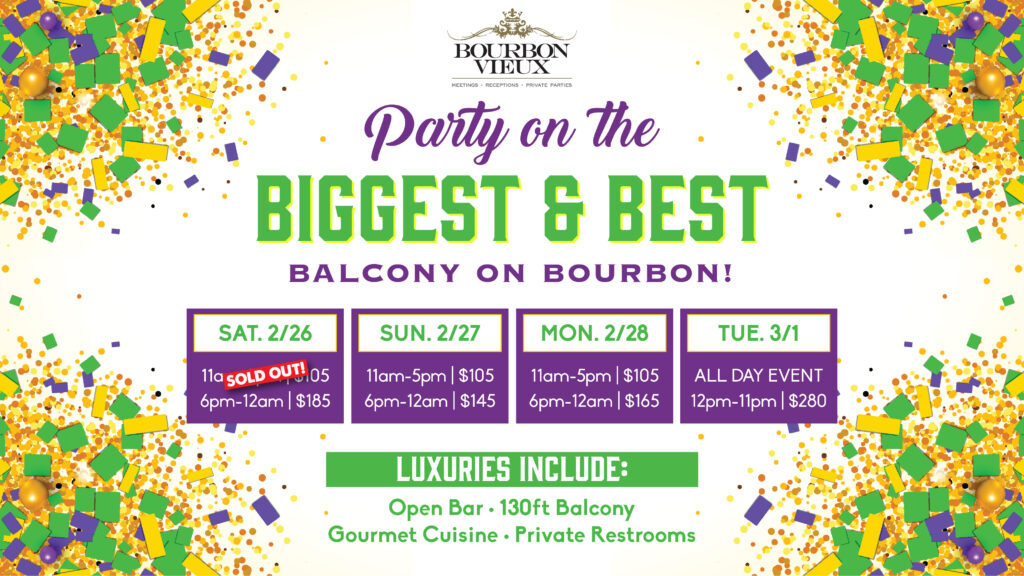 A New Orleans Mardi Gras celebration at Bourbon Vieux in the French Quarter offers the most unique and memorable experience in the city as you enjoy our large wrap-around Bourbon Street balcony overlooking Mardi Gras festivities. Mardi Gras at Bourbon Vieux includes the most luxurious atmosphere complete with a premium open bar and the most delicious gourmet cuisine reflecting the authentic flavor of the French Quarter. Enjoy Mardi Gras 2022 in New Orleans at Bourbon Vieux where our staff will ensure you enjoy the most wonderful location, spacious balcony and delectable gourmet food sure to delight you and your guests. Learn more about our 2022 Mardi Gras Party. We'd love to see you there!